It's been pretty quiet on the Orange Bettie blog lately.  There's been a lot of Girl Scouts and sewing and holiday stuff happening behind the scenes.  That's just life.  It comes in waves and I've learned to just ride them.  And now that my schedule is back to normal, I can show you a few of the things I've been working on.
One of the things that happened while I was gone was the election.
Ugh.  The election.
After the numb wore off, I found myself pulled toward my sewing machine and toward a project that had been brewing in my head for a few months.
It's a plaid flannel shirt (thrifted, of course) with a message of love on the back.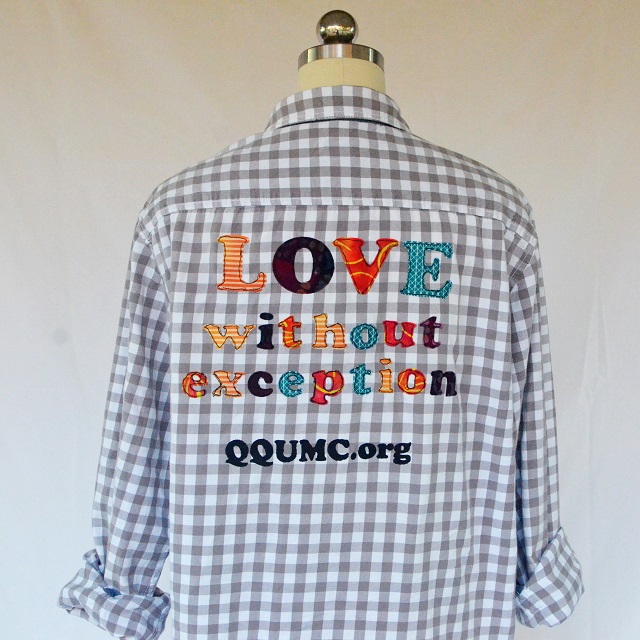 More specifically, my church's motto: "Love Without Exception."  Because God loves us all, and all means ALL.  No exceptions for race, nationality, gender, sexual orientation, financial status, physical or mental ability, family structure, etc.
Love Without Exception.
Scrappy colorful applique seemed wonderfully appropriate for the message.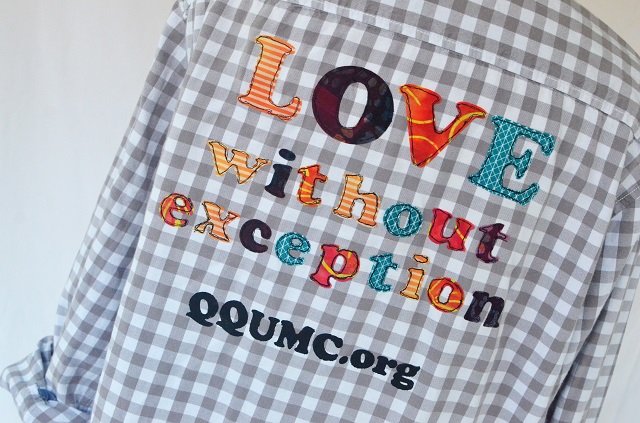 I cut the letters using my Silhouette and fused them down before stitching around them with free motion stitching.  My free motion stitching is far far far from perfect, as there are all kinds of thread snarls on the back side.  I think the heavy duty fusible gummed up my sewing machine needle.  Lesson learned.
Now I've got a button up shirt that's all business on the front, all radical love on the back.
I've got another project to show you, but that's for another post.
Till next time…
(Visited 153 times, 1 visits today)